Saying goodbye to a loved one is never easy.
It's an emotional time filled with memories, reflection, and the desire to honor their life in a meaningful way. At Cherished Prints, we understand the importance of creating a fitting memorial to celebrate your loved one's journey. That's why we offer fully customizable funeral programs designed with love and care.
What sets Cherished Prints apart is our belief in the power of personalization.
We don't believe in selling templates because we know each life is extraordinary and deserves a one-of-a-kind tribute. With our custom funeral programs, you are not confined by a pre-selected layout. Instead, you have the freedom to include special elements that truly reflect your loved one's personality and essence.
Do you want to include cherished photos that capture their infectious smile or love for the great outdoors? We can do that. How about poems, verses, or quotes that speak to their passions or values? We can include those too. And if your loved one had a secret family recipe that brought everyone together, why not include it in the program as a reminder of the joy they brought to mealtime? Even their favorite jokes can be included, ensuring their sense of humor lives on through laughter and fond memories.
At Cherished Prints, we take pride in the fact that we don't sell templates. Instead, each order is created from scratch, leveraging our existing designs as a starting point. Our professional graphic designer will work closely with you to understand your needs, preferences, and the story you want to tell. Through careful editing and customization, they will bring your vision to life, ensuring that every program we create is a unique and uplifting reflection of your loved one.
Check out our Funeral Programs
How to Order your Program
There are 3 simples ways to order your custom memorial program:
Purchase the product listing: Located on the right side of the product listing under the description you will find a form too fill out with your your content details and a your will be able to upload your photos was well.
Email us: At orders@cherished-prints.com with your content, listing title, photos, and shipping information. Please remember to include your in-hand date which should be earlier than the service date.
Call us: 386-463-0143.
We understand that during this time, you may want to be involved in the process as much or as little as you feel comfortable with. We are here to support you every step of the way. If you prefer a hands-on approach, we welcome your input throughout the design process. Alternatively, if you need some guidance or prefer a more hands-off experience, we are more than capable of creating a program that perfectly encapsulates your loved one's journey.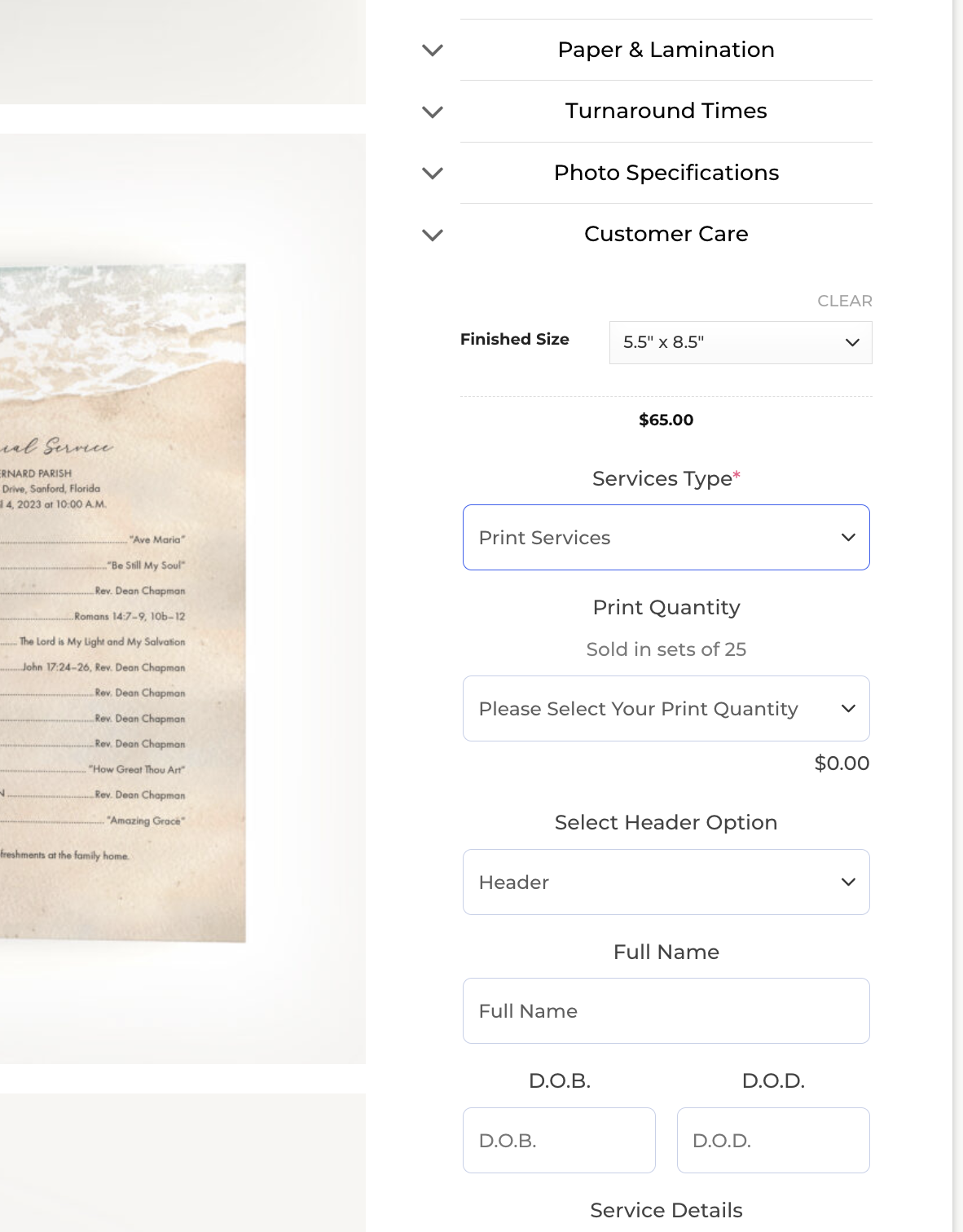 Order Now
Flexible printing options to suit your needs.
You can choose to have us print and ship the funeral programs directly to your doorstep. Rest assured that we provide FREE USPS Priority Mail on all orders, ensuring your programs arrive promptly. If time is of the essence, we also offer UPS overnight shipping options at an additional cost. Alternatively, if you prefer to have complete control over the printing process, we can provide you with digital files that can be printed at home.
In addition to funeral programs, Cherished Prints offers a range of other memorial products that can be customized to create a cohesive tribute package. Our collection includes prayer cards, bookmarks, invitations, acknowledgment cards, and memory cards, allowing you to honor your loved one in a comprehensive and personalized way.
When you choose Cherished Prints, you can trust that your order will be handled with the highest level of care and dedication. Every detail will be attended to, ensuring the final product becomes a cherished memento that reflects your loved one's legacy and lifts the spirits of all who receive it.
Let Cherished Prints support you during this difficult time and guide you in creating a custom funeral program that truly captures the essence of your loved one. Their life was unique and extraordinary, and their memory deserves to be honored with a program that serves as a beautiful and lasting tribute.
Choose Cherished Prints, where love is in every detail, and let our custom funeral programs become a heartfelt commemoration of your loved one's life.
Contact us today via the chat box, to get started on a custom funeral program for your loved one or if you have any questions.
Order Now