Cherished Prints is incredibly humbled to have received the below feedback from our past customers. It is truly heartening when people choose to take the time—in the midst of their grief—to write a few words/reviews) about their experience with us. We are sincerely grateful, thank you all. To read more of Cherished Prints' reviews visit the Cherished Prints Etsy shop review section.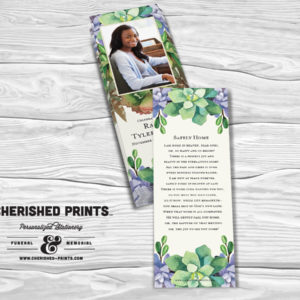 Melissa did a beautiful and elegant job on these bookmarks. They are of the highest quality and I can tell she takes pride in her work. Thank you so much for allowing us to have such an awesome memory of my father commemorated forever! ♥
The bookmark for my Grandpas service was absolutely beautiful and a perfect tribute to him. I passed them out to our immediate family and there wasn't a dry eye. Thank you for helping create this memento to keep so that we never forget how amazing he was. Also, thank you for your quick response and turn around time. <3
It's hard to describe or sum up a person's life, but with Melissa's beautiful work, my Grandmother's impact on all of us was truly spoken for through the peony program, bookmark and prayer card. Melissa was prompt to review and edit any changes we needed to make, and it was extremely easy (in a time where most things aren't) to make as many copies of the files as I liked. It's moments like these where we are grateful for the people that were put in our path to help celebrate our Grandmother, and I'm so happy we found Melissa to help us express our love and adoration for her through beautiful prints.
This shop saved the day in a pinch with quick turn around times. The Cards turned out amazing!!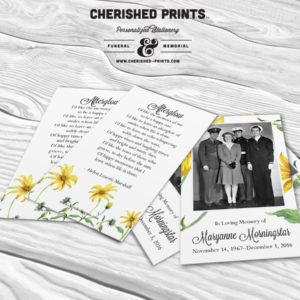 Melissa is a master at her work. She is extremely responsive and helpful. It was a beautiful memory of our mom. Thank you so much for your help.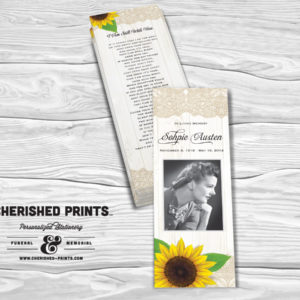 Losing our loved ones is never easy, and the process of planning their funeral directly afterwards is not a fun task to take on either. Melissa from CherishedPrints was extremely helpful with creating a beautiful memorial card for my sisters' Celebration of Life. I cannot thank her enough for her prompt response and addressing any revisions I had. Highly recommend her services to anyone reading my review. Super fast service and prompt shipping too! Thanks again Melissa 🙂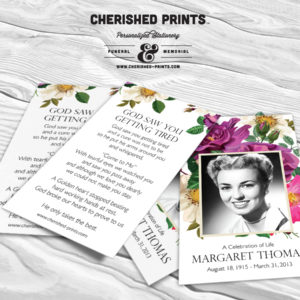 Melissa was so fantastic to work with. I needed some prayer cards in a pinch for a funeral that was out of the country and she was very quick and responsive from my initial inquiries to completing the order. Everyone at the funeral thought the prayer cards were great. I would definitely recommend Melissa and Cherished Prints to anyone looking for materials for a funeral. I plan to utilize their services again to create some print materials for memorial ceremony my family will hold next year for mother. I can't say enough good things about this store and it's owner.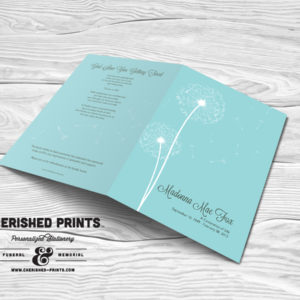 I cannot overstate the gratitude I feel for the for both the excellence of Melissa's work and for the beautiful impact her prints have on the people I conduct services for. Beyond simply producing exceptional quality products, the customer service she provides is second to none – a reflection of her kind heart and her obvious commitment to serve people. Both times I have purchased memorial programs from her she went out of her way to help me create exquisite programs worthy of the people they were designed to celebrate, honor and pay tribute to. Her work has blessed the people who were grieving the loss of their loved one by giving them something beautiful to remember their life with. I look forward to working with Cherished Prints in the future and could not be more thrilled to commend Melissa's masterful artworks to you. Both her ability and willingness to provide prompt and excellent service is demonstrable and exceptional -no small things when you are planning a service for services of the magnitude we are here concerned with. Experience the blessing for yourself and bless your loved ones or the people you serve by choosing from the wide ranging and lovely masterpieces of Cherished Prints! You won't be disappointed!
Absolutely an amazing job! Cherished Prints did not stop until our program was 100% perfect, my 4 small children loved it and was so proud that it truly honored their dad.
Ordered invitations, memory cards, and prayer cards. Always responsive within the hour. Got the designs the same day ordered, and they turned out beautiful. Ive gotten so many compliments on the invites and I'll be framing one for a keepsake. Made a very difficult time a tiny bit easier ♥️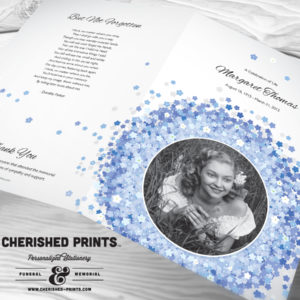 I got my mom's funeral service program and I couldn't be more pleased! I love them and feel that they are such a wonderful tribute to her. I'd highly recommend Melissa and her service. This is such a difficult time of loss–she was a joy to work with and the end product was fabulous!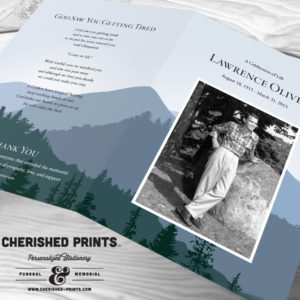 This was a god send in a time of chaos and grief. Melissa was extremely helpful in deciding layout and sending proofs and wonderful communication. My dad passed and she was very professional and did a wonderful time in an extremely difficult time. The family really appreciated these programs and for me, it was a very nice tribute to my father. I highly recommend this service.