Christmas Eve of 2011, Melissa received the most wonderful yet heartbreaking gift in the world. She became a full-time caregiver to her terminally ill mother, Madonna Fox, and stay-at-home mom to her 9-month-old son. Melissa was able to spend 2 months with her mom before she passed away, learning as much as possible from her gentleness, sweetness, kindness, and generosity, while she gave her love, family, and as much comfort as possible.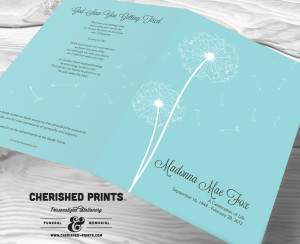 After Melissa's mom passed from cancer on February 28, 2012, she looked online for a memorial announcement, but was appalled by the outdated and poorly designed options available. After much reflection and soul searching, Melissa designed the Dandelion Collection as much for her mom as for herself though she didn't know it at the time. Melissa wanted to keep the design beautifully simple, clean, sweet, and a little wistful for things left undone. The end of her mom's life was strongly marked by the beginning of her son's. Thus, the wind blowing the dandelion seeds to start the next generation. This collection means a lot to Cherished Prints and to her; Melissa put her heart and tears into designing it.
With the inspiration of her mother's memorial stationery, Melissa saw a need that wasn't being met and created a line of beautifully and professionally designed celebration of life programs, invitations, thank you cards, prayer cards, bookmarks, and memory cards.
On March 6, 2012, Melissa started a line of memorial stationery through an Etsy store with one listing—an memorial announcement. She was the first to offer funeral stationery on Etsy. On May 22, 2012, she sold her first listing. In 2015, Melissa launched the Cherished Prints' online store and library collection of over 400 poems, songs, prayers to help customers to draw inspiration for your loved one's memorials and celebration of life stationery. Now in 2018 and over 2000 sales strong, Cherished Prints is building upon what has been created and will bring new designs and continued dedication to service.
For more information about Cherished Prints visit www.cherished-prints.com.
Melissa Fox-Austin
Designer / Founder
Melisa is based Sanford, Florida, and is the Owner & Designer of Cherished Prints. Born and raised in Orlando, Florida, went to Rollins College (Go Tars!), and now living in Sanford. Wife to high school sweetie and mother to brilliant son (Xander), and three cats (Sophie, Remy, and Shadow).
Current life goal is to make the perfect latte and travel more. In addition to owning and operating Cherished Prints, she is a freelance graphic designer for the food and beverage industry and has worked with clients all over the world.
Xander Austin
In Training
Hi! My name is Xander and I'm 7 years old! I help my mom out by putting the labels and tape on the boxes for shipping. I help take packages to the post office and charm all the workers. Lots of hugs!