Resource Library
Check out Cherished Prints Resource library containing over 400 memorial poems, prayers, quotes, and more…"
library
We'd be honored to help tell the story of your loved one's life.

Your experience with us is about finding a design that speaks to the memory of the person whose life you're celebrating and our job is to make it simple for you by taking you through it step by step and handling the details and logistics.
Terrific service and quality work. Cherished Prints contacted me immediately with the draft. I okayed the draft and it was sent to the printer. I couldn't have been happier with the product. It was a beautiful way to memorialize my sister and the book markers arrived in more than enough time. I am a very happy customer and highly recommend Cherished Prints to everyone in similar circumstances. Very professional service and very beautiful work.
Nancy Balderrama
/
verified owner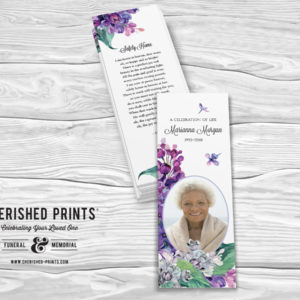 I was extremely pleased with my whole experience with Cherished Prints. Quick, friendly emails and a stellar final product made the whole process painless and easy. Melissa was always prompt and accommodating. Highly recommended!!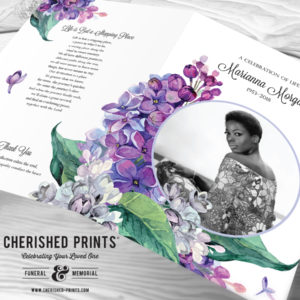 The very best website out there in my opinion for design options. Was so fast, easy and simple. Had so many compliments and our whole family was so happy with the final product.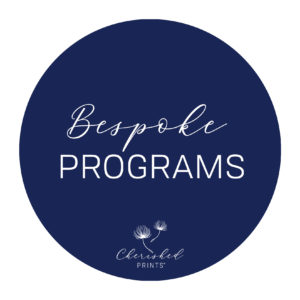 The care given to us as we assembled our thoughts, story, and photos to celebrate a dear family member, truly gave us the time to do just that, rather than learn or work through software to assemble an inferior outcome. We did use a local printer, and they, too, appreciated the artwork delivery and follow through. And, now we have a final piece that we can love on for generations.
Anonymous
/
verified owner
It is always a bit risky to order something that is very personal and important online. But the customer service that Melissa provided and the final product was excellent. I would recommend Cherished Prints and will be sure to keep them in my file for any future needs.
Every order is made with the highest level of care and dedication. The process is as hands-on or hands-off as you need it to be–just ask for help if you need it.
Love in Every Detail.
Cherished Prints' mission is to help the grieving celebrate their loved ones through design, service excellence, and compassion.
Shop Now