I forgot to post about the Cherished Prints rebrand!
We have a new logo and I love it so much. I've been so busy implementing the new logo everywhere and creating amazing new packaging (I'll be posting soon) I forgot to post about it.
I spent hours and hours designing the logo and answering a lot of questionnaire/soul searching with the help Shannon Calderon and Jenna Marie Dail at The Busy Bee. Together we put together a "road map" to what Cherished Prints is, defined the market, and refined the brand. I couldn't have done it without them. I had it all in my head, but they listen, assimilated, distilled, and handed me back a treasure. Thank you so much!! So here it is…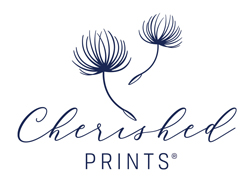 We kept the Dandelions (of course!) one for my mom and one for my son — her influencing future generations. The colors are dark blue to create a solid foundation for consistency and grounding. Blush pink for a modern contrast that adds sweetness and is uplifting, and green and gold for renewal and growth.
About Cherished Prints
Cherished Prints is an online boutique specializing in made-to-order and bespoke funeral and memorial stationery. The Cherished Prints collection includes beautifully designed Programs, Prayer Cards, Bookmarks, Invitations, Announcements, Memory Cards, Attendance Cards, Thank You
Cards, and Mourning Cards that can be personalized with photographs, personal messages, readings, hymns, and poems.
Since its inception in 2012, Cherished Prints hopes to transform consumer expectations of funeral and memorial stationery by providing premium customer service, guidance, and designs.