For Immediate Release
Cherished Prints will launch new website of fully customizable and elegant funeral and memorial stationery.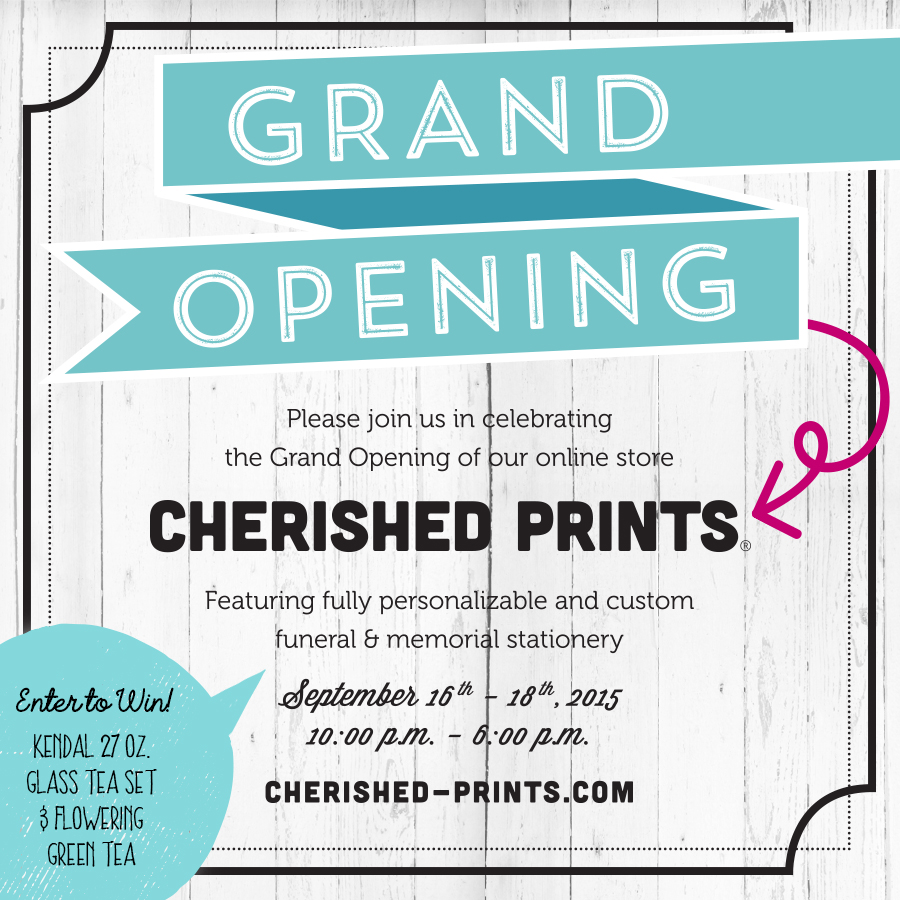 Sanford, FL – September 9, 2015 – Cherished Prints, leading vendor in personalized and custom celebration of life, funeral, and memorial stationery, is pleased to announce the launch of their brand new, full-featured website. The new website will launch on September 16, 2015, offering a clean uplifting design, easy navigation, and a content-rich site experience. To see the new website, visit www.cherished-prints.com!
"We want to radically transform what consumers now expect in funeral stationery and be a go to place for top-notch customer service, advice, and stellar design," states Cherished Prints founder and owner, Melissa Fox-Austin. "Our brand new website is more closely aligned with our strategic vision for growth and expansion over the next few years. The website is part of the Cherished Prints' on-going efforts to celebrate, educate, inspire, and assist our customers in honoring the lives of their loved ones."
Cherished Prints product offerings include funeral, memorial, and celebration of life programs, invitations and memorial announcements, prayer cards, bookmarks, memory cards, and thank you cards. The site also includes the Cherished Prints Library, a growing collection of over 500 blessings, song lyrics, poems, prayers, psalms, quotes, and scriptures.
About Cherished Prints
Cherished Prints offers fully personalizable and custom celebration of life, funeral, and memorial stationery. We believe that life should be celebrated and it is our goal to create lasting memorials that can be treasured by our customers' loved one's family and friends for years to come.
Cherished Prints continues to draw inspiration from the compassion, love, and patience that we have learned from taking care of our cherished ones, watching hospice do the most incredible deeds, family, and our customers and their stories.
How Cherished Prints Started
Christmas Eve of 2011, Melissa Fox-Austin received the most wonderful yet heartbreaking gift in the world. She became a full-time caregiver to her terminally ill mother, Madonna Fox, and stay at home mom to her then 9-month-old son. Melissa was able to spend two months with her mom before she passed away, learning as much as possible from her mother's sweetness, kindness, and generosity, while she gave her mother love, family, and comfort.
After her mom passed from cancer on February 28, 2012, Melissa looked online for a memorial announcement but was appalled by the outdated and poorly designed options available. After much reflection and soul searching Melissa design the Dandelion Collection. She kept the design beautifully simple, clean, sweet, and a little wistful for things left undone. The end of her mom's life was strongly marked by the beginning of her son's. Thus, the wind blowing the dandelion seeds to start the next generation. This collection means a lot to Cherished Prints. Melissa put her heart and tears into designing it.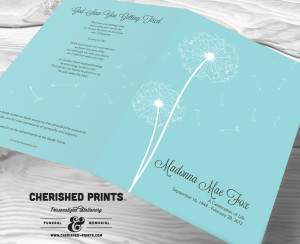 With the inspiration of her mother's memorial stationery, Melissa saw a need that wasn't being met and created a line of beautifully and professionally designed funeral programs, invitations, thank you cards, prayer cards, bookmarks, and memory cards.
On March 6, 2012, Melissa started her line of memorial stationery through an online store on Etsy. On May 22, 2012, she sold her first listing. Melissa was the first to offer funeral stationery on Etsy. Now 3 years and over 725 sales later, we are proud and honored to launch the Cherished Prints' online store.
For more information about Cherished Prints visit www.cherished-prints.com.